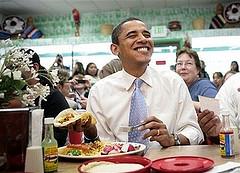 Obama is at it again. Beware of his "truth teams" that are heading to 13 "swing states" soon to counteract attacks on the president's record. In perfect "Big Brother" fashion, these teams will head to Iowa, Michigan, New Hampshire, New Mexico, North Carolina, Wisconsin, Arizona, Colorado, Florida, Minnesota, Nevada, Ohio and Virginia.
New Obama Plan
As the campaign wrote in a statement,
"The goal is to ensure that when Republicans attack President Obama's record, grassroots supporters can take ownership of the campaign and share the facts with the undecided voters in their lives."
Stephanie Cutter, the deputy Obama campaign manager added, "If the other guys are going to run a campaign based on misrepresenting the president's record – and their own – we have two options: sit back and let these lies go unchallenged, or fight back with the truth. We're fighting back."
Big Brother Arrives?
Does this mean, while sipping my cappuccino at the local Starbucks, I might run into one of these truth team members and get an earful of their Obama opinions, thinking they are just ordinary citizens?
Obama has taken this approach to negative press in the past as well. In 2008 he had the Obama "Fight the Smears" campaign where 1 million supporters were used in "public education" roles; in 2009 Obama asked supporters to report negative press that surrounded his health care plan; last September, the campaign launched the AttackWatch.com website offering volunteers "new resources to fight back."
All of this creates a bit of a bad taste the mouth of Americans who believe in freedom of speech, a free flow of ideas and freedom of the press. No?