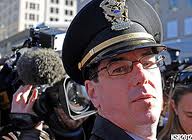 Occupy activists say they will continue their struggle for economic and other rights even if they are no longer encamped in Freedom Plaza, just a few blocks away from the White House.
Clean-up Underway
The new reality for the Occupy Washington DC protestors was created when National Park police and sanitation workers donning HAZMAT suits took down tents, packed-up bedding and personal belongings into plastic bags and boxes, and quoted the numerous rules and regulations forbidding dwelling on National Park property.
Two dozen demonstrators looked on while the police and sanitation workers cleaned up; further away, on the outskirts of the plaza waited police cars, officers wearing riot gear and shields, and one armored car, just in case something went wrong.
Sign of Protest
The protestors have been camped out in Freedom Plaza since October, when about 100 people joined the greater Occupy Wall Street movement to voice their displeasure with the country's large income gap, war, and what they describe as the corporate culture corruption of society.
"Fall back, regroup, and fight another day," said Mike Sheffer, 54, who traveled from Vermont to be part of the anti-war demonstration in Freedom Plaza that kicked off the encampment in October. "The reasons why we came here haven't changed."
The group issued a statement on Sunday after Saturday's day-long eviction:
"This occupation is far from over. They can't evict an idea whose time has come."
Not an Eviction
The police firmly stated that the protestors still have the legal right to demonstrate in the park, as part of their constitutional right to free speech. They can have 24-hour vigils, and even use tents as part of their demonstration, as long as the tents are not their abode, emphasized US Park Police spokesman Sergeant David Schlosser.
"This is absolutely not an eviction," he said. "This is strictly a compliance issue."