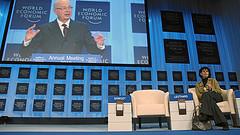 It appears that having one website in which thousands of secret documents are available on-line to anyone is just not enough. A second, more orderly site has appeared to join the first sensational and revealing WikiLeaks site.
A former spokesperson for WikiLeaks, Daniel Domscheit-Berg, opened the new site, calling it OpenLeaks, to the public last Friday. Domscheit-Berg explains that his new platform will give more control to the whistleblowers concerning which secrets they are ready to reveal and to whom.
Domscheit-Berg says that OpenLeaks will allow the information source to pick a specific recipient of their information, deciding who they want to anonymously submit documents to, like a particular news network or outlet.
"We'd like to work with media outlets that have an interest in informing the public," he told reporters on the sidelines of the World Economic Forum meeting of top business and political leaders in the Swiss resort of Davos.