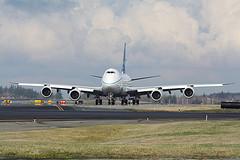 A critical contract worth $35 billion was awarded to Boeing last week, and many lawmakers and other analysts are wondering why.
The Chief Washington Correspondent for Bloomberg Television Peter Cook said he was surprised that Boeing won the contract and not European Aeronautic Defense. "EADS was certainly talking as if they won this contract and Boeing, for the most part looked like they were getting ready to protest."
Boeing workers across the US are celebrating today the rights to build the replacement fleet of the 50-year-old KC-135 tankers. This contract has been fought over hotly for more than ten years.
William Lynn, the Deputy Defense Secretary was not surprised by the outcome, insisting that, "Boeing was a clear winner."
But others are not so sure. In Alabama there is great disappointment with the outcome, as Republican Senator Richard Shelby complained, "I'm disappointed but not surprised. Only Chicago politics could tip the scales in favor of Boeing's inferior plane. EADS clearly offers the more capable aircraft."
Another Republican, Representative Jo Bonner has promised to find out exactly how the Boeing bid was chosen over EADS contract bid.