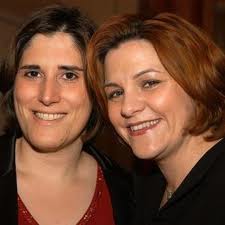 Known as a tough, no-nonsense politician, Christine C. Quinn, speaker of New York's City Council, is planning her wedding to long-time girlfriend, Kim M. Catullo, due to take place on May 19.
According to some observers, the wedding could have a positive effect on Quinn's public image, softening her up a bit for the public in preparation for what is expected to be Quinn's bid for mayor this coming year.
Kenneth Sherill, professor of political science at Hunter College said the wedding could be a humanizing moment for Quinn, who otherwise comes across as a hardened and savvy politician.
"She comes over, typically, as a rather tough politician. It puts a warm and loving face on a politician, at a time when we don't think of politicians that way," Sherill said.
Other analysts say that Ms. Quinn needs to exert caution to avoid appearing to use her personal moment for political gain.
"It's a very tough balance that you have to achieve,"
said Matthew Hiltzik, a public relations strategist who has worked with other public figures, including Democratic politicians. "If you provide too much information, then someone will accuse you of exploiting it," he said.
It is unclear how Quinn's same-sex marriage will play on New York's voters. There is definitely a certain amount of political risk involved because of New York's more socially conservative communities.
"We don't know what the reaction will be, because we've never had something like this,"
said Hank Sheinkopf, a Democratic political consultant.
Professor of political science at Queens College, Michael A. Krasner, says that any political risk for Quinn is negligible. Most people who would be opposed to the same-sex marriage would most likely not be voting in a Democratic primary anyway.
"My hunch is that, while there may be some impact at the margins in terms of a Democratic primary," he said, "it's not going to matter very much, because the people who vote in Democratic primaries are not people who are going to be offended by this."
Ms. Quinn recalls her feelings after the bill which legalized same-sex marriage in New York passed the legislature last year. While wiping away tears, Ms. Quinn said she was so thrilled to be going to a family get-together the next day and for the first time be able to talk about plans for her own wedding.
"I really can't really describe what this feels like," Ms. Quinn said at the time, "but it is one of the best feelings I have ever had in my life."