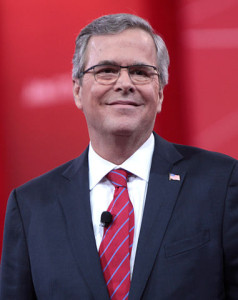 The race to the presidential elections of 2016 is off and running. At the starting gate are a few big-name GOP hopefuls such as New Jersey Governor Chris Christie, former Florida Governor Jeb Bush, Wisconsin Governor Scott Walker and Senators Rand Paul, Marco Rubio and Ted Cruz.
Support for Bush is coming in strong from the financial industry. Jim Donovan, Goldman Sachs Managing Director, organized a fund raiser earlier in March, charging participants $50,000 a head.  Others from Goldman who helped with the preparations for the evening were Scott Kapnick and Muneer Satter, a former Goldman exec who co-chaired Mitt Romney's finance committee in 2012. James Donovan, Goldman Sachs was also a key advisor on Romney's campaign.
Bets are also beginning to come in for Chris Christie.  In late January the NJ governor filed his paperwork with the FEC to form a political action committee called "Leadership Matters for America." In February Christie went deep into Bush country to solicit funds for his campaign as a featured guest of the head of Point72 Asset Management, Steven A Cohen, in his Greenwich, Connecticut home. Greenwich is an affluent town where residents have been on the Bush donor list for many years.
Scott Walker is not technically a candidate yet, but he certainly seems to be on the campaign trail. In an email sent out at the end of February to Walker supporters, he seemed to slam what was termed the Liberal Media.
"Now is the time to stand up against the publicity hounds and the journalistic pack, and help Governor Walker fight back with a 'Friends of Scott Walker' contribution of $10 or $100 or $1,000 or whatever amount is right for you," the email says. "Your support will show the clueless and mindless journalistic herd that you know what matters most and that it is not the pointless minutiae that they are pushing."
Rand Paul, Ted Cruz and Marco Rubio have been seen around the country, raising awareness of their possible intentions to run, and their need for money with which to do it. The next few months leading up to November should prove as exciting as a horse race, with a lot more money at stake.