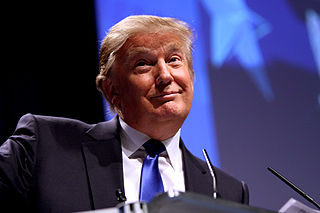 Last week Donald Trump, the real estate mogul who often says things weird enough to make his listeners cringe, declared his desire to run for president of the United States as a Republican candidate. If he were just one more candidate with no chance to win, perhaps the other candidates would not be so concerned about this. But Trump is not just another candidate.
"Donald Trump is like watching a roadside accident," said former George W. Bush press secretary Ari Fleischer. "Everybody pulls over to see the mess. And Trump thinks that's entertainment. But running for president is serious. And the risk for the party is he tarnishes everybody."
The Republicans are desperately trying to change their reputation as the party that does not care about minorities or women. Fear that Trump could further tarnish that vulnerable reputation heightened last week when several polls indicated that he will most like get an invitation to the GOP debates. Giving Trump the kind of soap box that can turn the debates into something more resembling a satirical vaudeville sketch than a political debate is exactly what the Republicans have been working so hard to avoid.
"I'm not excited about somebody as divisive as Trump or somebody as obnoxious as Trump being on the debate stage," one member of the RNC stated.
Fox News, the host of the debates, has decided to only include the top ten Republican candidates. At the moment Trump is in eight positions, ahead of New Jersey Governor Chris Christie, and former Texas Governor Rick Perry. Even more critical to the Republican strategy is that Trump out-trumps Carly Fiorina, the former CEO of Hewlett-Packard. The GOP would really like to see her on the debate stage to showcase the party's diversity, acceptance of women in the party, and to help all the male candidates get the right tone to connect with women voters.
"If Donald Trump elbows out Carly Fiorina, for example, that would be a real tragedy for our side," said Republican strategist Ron Bonjean.