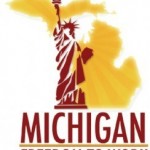 Michigan is set to make history as the governor will soon be asked to pass the right-to-work bills that are heading to his desk. This week the bills passed in both the House and Senate, and their passage with the governor would make Michigan the 24th right-to-work state. The law would be particularly significant in Michigan since it would be the first state with a large percentage of union workers to pass such a law.
Michigan Governor Rick Snyder said, "When it arrives on my desk, I plan on signing it."
With the new law, employees would only pay union representation fees if they decided that they wanted to do so. As one reporter, Jarrett Skorup, pointed out, tens of thousands of people in Michigan at the moment are forced to send money to the Service Employees International Union because they care for a friend or family member who received a Medicaid stipend. This includes families who look after their children with cerebral palsy, people who look after an elderly parent and many others.
For the people of Michigan, many argue that ending these practices for families dealing with dire medical situations like cerebral palsy is essential. It's not just an economic issue, they contend, but also a moral one.