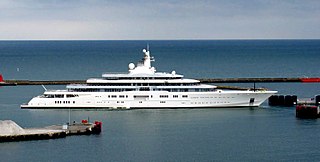 A megayacht owned by Russian oligarch Roman Abramovich made it to the front page of the Palm Beach Post. The article announced that the 533-foot yacht, named Eclipse, and worth between $400 and $500 million, had already sailed by the Bahamas and docked on Friday in the berth usually reserved for the Grand Celebration at the Port of Palm Beach. The GC is a cruise ship which is now assisting in the Virgin Islands in the aftermath of Hurricanes Irma and Maria. Although the Eclipse has reserved the spot until December 5, it may have to sail away by December 1 to make room for an even bigger privately-owned ship, the World. That boat is 644 feet, and is known as the "largest private residential ship on the planet."
It is expected that when it departs from its temporary home in Palm Beach, it will sail down the Intracoastal Waterway, in the direction of downtown West Palm Beach.
The Eclipse is well-equipped with a helipad, pool, a submarine and a crew of up to 92 people. It should be noted that President Donald Trump is also on his way to his Florida getaway destination, and is planning on being there for Thanksgiving this Thursday. It is curious and interesting that if all goes according to this plan, there will be a Russian submarine located within one mile of the winter residence of the president of the USA.