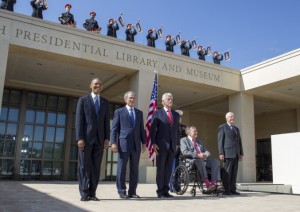 One of the hardest clubs in the world to get into is the club of past and present Presidents, who are still alive, that is. It is rare for this club to gather together, but for the occasion of opening yet another Presidential Library such a meeting is sure to take place.
The latest such get together was held in mid-April in College Station, Texas. The four ex-execs and the one still sitting in office chummed it up at the opening of the
President Barack Obama and ex-presidents Jimmy Carter, Bill Clinton, George W. and George H.W. Bush got along famously at the festivities. And why shouldn't they? They are not rivals or competitors, so what is there to fight about? But history shows that even members of the same political party can be at each others throats if there is something to loose.
Take for instance the serious enmity between William Howard Taft and Theodore Roosevelt. In the collection of the Shapell Manuscript Foundation is a letter which testifies to only the tip of the iceberg when it comes to the depth of Taft's dislike and distrust of Roosevelt. The letter, written in June, 1912, right after the Republican Party, through the efforts of Taft, trounced Roosevelt, denying him the nomination, reads as follows:
Dear Mrs. Harriman,
I write to thank you for your kind telegram of congratulation on my nomination at Chicago.  Whatever may hereafter result, it is a great victory to have removed forever the danger of Mr. Roosevelt's coming again to the Presidency or into control of the Republican Party.
The character of Mr. Roosevelt's campaign has been so unprecedented and so unfair, that it is a just judgment which he has suffered.
With […] expression of gratitude for your good wishes, believe me
Sincerely yours
WM H TAFT
We wonder how these two would have gotten on at a Presidential Library opening. Presumably not as well as Clinton, Carter, Obama and the Bushes.