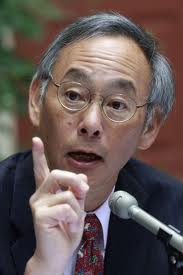 Sometimes telling the truth can get a person into trouble. For example, this week the Secretary of Energy Stephen Chu said to a House committee that the Obama administration does not believe that today's gasoline prices should be lowered.
Secretary Chu, in harmony with Obama's policies, says that high oil prices are a feature of the energy program and not a defect. According to Chu and others, the high price of gas encourages the use of alternative forms of energy as well as decreasing the country's dependence on oil, an important priority for Obama.
According to the Heritage Foundation the administration is glad to see consumers hit with high gas prices since this makes electric and hybrid cars look even more cost effective for consumers, encouraging a trend in purchasing these cars, a trend Obama would like to see more of. This policy also explains Obama's stalling to sign the Keystone XL pipeline and to permit drilling in large areas of the US, both offshore and on.
The problem for Obama is that this policy will not win him many friends among voters, and will put a powerful weapon into the hands of Obama's Republican opponents.  A video has already been aired by the Republican National Committee which highlights the soaring gas prices and the failure of Obama to do anything to bring those prices down.
Chu, has unwittingly or otherwise,  sprung open a Pandora's Box for Obama's re-election campaign which the Republicans are very likely to take full advantage of. American's will not be happy when they realize that they are being hit hard in their pocketbooks so that Obama can advance his quest to get the country moving with green energy.
We can only wait and see how Obama reacts to the scandal that could very well ensue after Chu's remarks. Green energy policy is as important to Obama as health care reform, another one of Obama's less favored policies. If Obama keeps steam-rolling his policy ahead at full speed, it seems likely that voters will punish Obama and his fellow Democrats. On the other hand, if Obama retreats from his policy of higher prices at the gas pump he will look weak and wavering, and perhaps will still not improve his love quotient with Americans who are crying every time they go fill their cars with gas.