In a unanimous decision the Supreme Court of the United States ruled that police violated a suspect's Constitutional rights when they placed a Global Positioning System (GPS) tracker to his car without the benefit of obtaining a valid search warrant first. The decision is considered to be one of the first major cases testing the limits of privacy in the digital age.
Drug Dealer Nabbed
The case involves a police narcotics operation which led to the recovery of nearly 100 kilograms of cocaine and $1 million after authorities raided a house in Fort Washington, Maryland. Police from Washington, DC and the FBI had Antoine Jones, a nightclub owner, under surveillance for months using a large assortment of techniques including tapping his cellphone, with a warrant from a federal judge.
No Warrant-Conviction Overturned
Jones was convicted and jailed, but a federal appeals court in Washington overturned Jones' conviction, saying that the police had watched Jones for a month by placing the tracker on his car without a warrant. The police did have a warrant for the District of Columbia, but it had expired before the GPS was installed in Maryland.
Desperate to uphold the conviction, police argued that they did not need a warrant in the first place. The unanimous decision of the Supreme Court negates that position.
Privacy in the Digital Age at Stake
The decision is considered an important look at how the Court will address what is expected to be a torrent of privacy cases in the coming years as the digital age of cellphones, email and online documentation encroaches on personal privacy.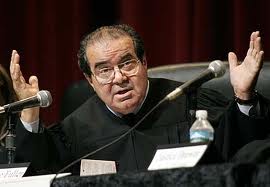 The reasoning for the decision was not unanimous, however. Four justices argued that placing the tracker was not only trespassing on private property, but also violated the suspect's "reasonable expectation of privacy" by watching his travels for a month.  The other five justices did not agree, saying that it was not necessary to go that far. They argued that just placing the tracker on the car was an invasion of the suspect's property in the same way that a home search is.
Justice Antonin Scalia wrote the opinion for the majority. He said that when the Fourth Amendment protecting private property was conceived in the 18th century it was protecting ""persons, houses, papers, and effects, against unreasonable searches and seizures." In the modern world this protection would certainly extend to cars.
"The Government physically occupied private property for the purpose of obtaining information. We have no doubt that such a physical intrusion would have been considered a 'search' within the meaning of the Fourth Amendment when it was adopted,"
Justice Scalia wrote, joined by Chief Justice John Roberts and Justices Anthony Kennedy, Clarence Thomas and Sonia Sotomayor.