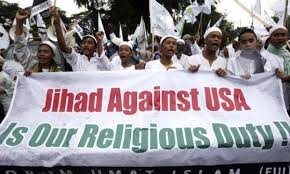 The vicious attack on an upscale shopping mall in Nairobi, Kenya last month is only the latest in what has become an all-too common-place event: Islamic extremists murdering innocent people in order to terrorize and publicize their fanatic point of view.
The fight against the rise of Islamic extremism, whether it garbs itself in terror attacks, oppression of women and minorities, or suppression of freedom of expression, religion and the press, is taking place today on several fronts simultaneously.
Aside from the obvious responses such as increased security and pro-active military means of prevention, there are also organizations which are struggling to raise awareness in the general population to the dangers and truth about Islamic extremism.
One of these organizations which has been on the forefront of this educational campaign since 2006 is the Clarion Project. Formerly known as Clarion Fund, the Clarion Project is a not-for-profit, independently funded organization which is "dedicated to exposing the dangers of Islamic extremism while providing a platform for the voices of moderation and promoting grassroots activism."
The focus of Clarion project's work to educate the public takes place via two main platforms: through their dynamic, informative website and by means of the production of full-length feature documentaries. Clarion Project's website attracted the attention of over 450,000 viewers in 2012, covering up-to-the-minute news stories and commentary. So far three films have been released and distributed to a wide audience. More than 50 million people have seen the Clarion Fund's films which deal with the most pressing issues for western audiences trying to understand the bitter fruits of Islamic extremism; including religious persecution, human rights and women's rights issues, the nuclear threat coming from Iran today, and what Jihad means, especially to the West. The Clarion Fund utilizes the expertise of the most informed scholars on the Middle East and Islam, human rights activists and concerned Muslims, so that together they can "promote tolerance and moderation and challenge extremism."