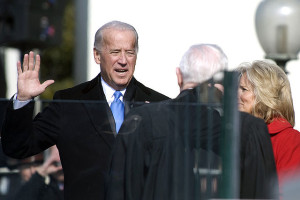 Speaking at a reception hosted by Israeli Ambassador Ron Dermer, Vice President Joe Biden asserted the strong ties between the United States and Israel, despite some negative encounters in recent weeks.
The reception was held in honor of the 67th anniversary of the establishment of the State of Israel. Biden's remarks were designed to reassure the representatives of the Jewish state and its supporters that despite differences of viewpoint on certain major issues, ties between the US and Israel remain sound.
"It's no secret," Biden said last Thursday night in Washington, as reported in The New York Times, that "we've had our differences."
Biden explained that the Obama administration is totally committed to the support of Israel, even in the face of the White House's push a nuclear agreement with Iran that Israel is completely against. Biden also mentioned the American backing of a two-state solution as a way to bring peace between Israel and the Palestinians.
"You protect our interests like we protect yours, so let's get something straight in this moment of some disagreement, occasionally, between our two governments," Biden said. "No president has ever done more to protect Israel's security than President Barack Obama."
Ambassador Dermer and Biden both described the US-Israel relationship as overwhelmingly positive. Dermer said that Israel and the US were a 'mishpachah,' using the Hebrew word for family.
Biden pointed out that just like all families, "Sometimes we drive each other crazy, but we love each other — and we protect each other."