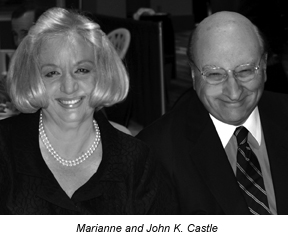 A Palm Beach, Florida estate once owned by the Kennedy clan was sold by its most recent owner, John K. Castle, for a record amount of $31 million. Castle Harlan founder John Castle, and his wife Marianne, purchased the mansion in 1995 for $4.9 million, including furnishings, and then embarked on a two-year renovation project.
Marianne and John Castle shared in the prevalent view that the North End property represents an iconic part of 20th century American history, and sought to preserve several of the rooms and  furniture. The house was built in 1923 and designed by celebrity architect Addison Mizner. Boston resident Joseph P. Kennedy, the patriarch of the Kennedy family, purchased the home from its first owner Rodman Wanamaker in 1933 to be used as a winter residence for his growing family. It is believed that John F. Kennedy, later to become President Kennedy, wrote his Pulitzer Prize-winning book, Profiles in Courage in the house during his 1956 recuperation from back surgery.  After becoming president, Kennedy discussed with his advisers the make-up of his cabinet in the Palm Beach residence.
When Marianne and John K. Castle purchased the home there were over a dozen Kennedy family members listed on the deed. Castle is a dedicated sailor and also has an interest in equestrian show jumpers.  He launched Castle Harlan in 1987 and now serves as chairman and CEO. Castle and his wife preserved two downstairs bedrooms, known as the "Presidents Room" and the "Attorney General's Room," referring to JFK and his brother Robert's rooms. Bobby Kennedy served as John's attorney general in the early 1960s. The Castles made other renovations as well, including adding air conditioning, a turret to the front façade to enclose a spiral staircase, and building a family room in place of a loggia.
"We wanted to preserve the things that were preservable," John Castle told the Palm Beach Daily News in 1999 at the end of the renovation.