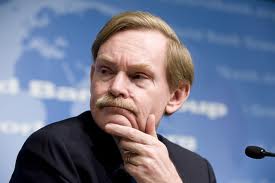 Robert Zoellick announce on Wednesday that he will be leaving his job as president of the World Bank as of this coming June. The Obama administration promised to submit its own candidate for the job within a short time. The president of the World Bank is a post which has traditionally gone to a US citizen.
Zoellick took over as president of the Bank in 2007 in the wake of a revolt by World Bank employees which ended in the forced resignation of Paul Wolfowitz. As soon as Zoellick took over the emphasis of the World Bank's functioning returned to alleviating poverty around the world.
The fact that the presidency of the World Bank has always been given to an American does sit well with many countries around the world who wish to have a greater voice in leading international institutions. It appears likely that the global community will demand a more competitive process for picking the leader of the World Bank, but it is nevertheless expected that the US will retain its control of the job.
"It is very important that we continue to have strong, effective leadership of this important institution, and in the coming weeks, we plan to put forward a candidate with experience and requisite qualities to take this institution forward," U.S. Treasury Secretary Timothy Geithner said in a statement.
Although Geithner did say that replacing the president should be an "open and expeditious process," analysts say that Washington cannot afford to give the post away without taking the chance that the US Congress will cut funding for the Bank.